CURRENT AND FUTURE TRENDS IN NUMERICAL PDE's:
Where is the field, and where is it going?

---
Meeting Location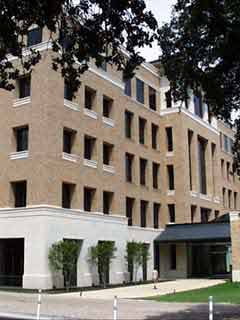 The Applied Computational Engineering and Sciences (ACE) building
201 East 24th Street, Austin, Texas 78712

Corner of 24th Street and Speedway
Please note that Speedway is called Congress Avenue in downtown Austin

Conference meeting in the Avaya Auditorium, ACE 2.302
Parking
Public parking is available in several garages. The closest is Parking Garage 1 (at San Jacinto and 24th St.).
The maximum fee per day is $7. On Saturday, free parking on campus can be found, but read the signs carefully.
---
Austin, Texas
---
Current and Future Trends in Numerical PDE's,
A conference in honor of the 75th Birthday of Professor Jim Douglas, Jr.,

Last modified: 1 February 2002.